·
Ar Hugger. Carpe diem per guttur .
There isn't much choice out there for decent Buckmark holsters, so I needed a custom job. A member here had made me a really nice OWB leather holster for my CZ PCR, so I let 2Aforall borrow my Buckmark and see what he could come up with. I'm extremely pleased.
Pros:
Extremely tight fit without being too tight. I couldn't be more pleased. I thought I wanted something with a thumb break for some minor woods carry, but this will work just fine.
It has a great finish. I know it will get banged up in the woods, but I'm not looking forward to it.
It is canted just like I wanted. I would much rather have a straight drop setup, but my waist is smaller than it once was. I can't carry anything at 3 o'clock comfortably, so a little farther back and a little more cant make carrying it more comfortably.
The sweat guard cut is great. There is just enough to allow a great draw while retaining enough material to be very functional.
Cons:
I should have paid for some matching mag holders.
Here are a few pics: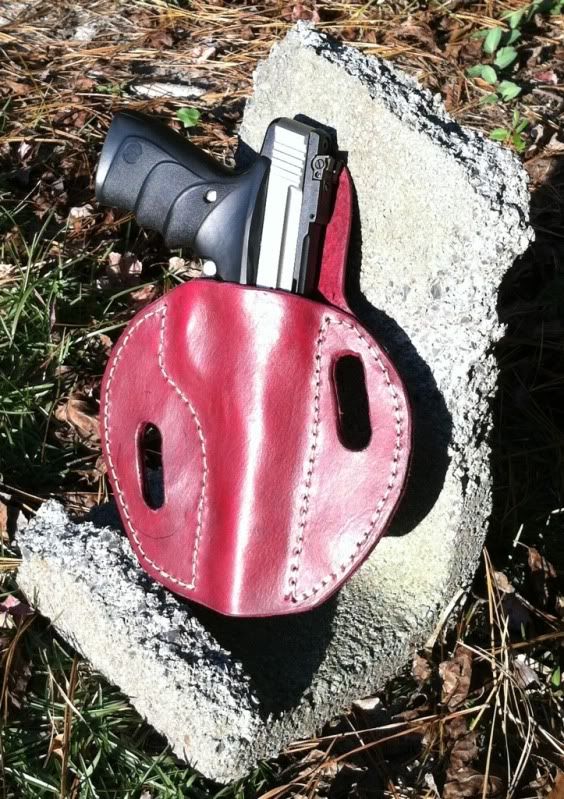 Overall, I think it's great. It is definitely WAY better than anything generic out there. 2Aforall is also a great guy, so it's always a pleasure doing business with him.
Sent from my iPhone using Tapatalk