Discussion Starter
·
#1
·
Since there are no guns involved I'll put it here.
So I'm scouring pawn shops for a Baritone Horn for my daughter. I get a lead on a shop that might have one. When I go I'm OC"ing my G19 in a my snap on leather holster. I'm looking at some handguns while I wait and another employees asks if he can help. We talk guns, I mention I make holsters and he asks if I'm interested in some tools. Sure. So he goes and gets a bowling ball bag full of tools. The only thing that annoys me is that I just ordered 3 of the tools in the bag from Springfield. Anyway, he had not decided if he was selling the whole bag or going to part it out. So I ask him to make me a price for the whole bag. I walked out of there with all this for some change under $65. And going back later to have may daughter try the horn that they did have. At this point I'm estimating $300-400 dollars worth of stuff here if I were to order it.
I'm still giddy about this. Most of this stuff is not even used. But a lot of it is getting ready to be. And just to relate this here, I might have to try tooling a holster soon. I've already made a small pouch and dog collar with some of this stuff.
Overview
Detail shots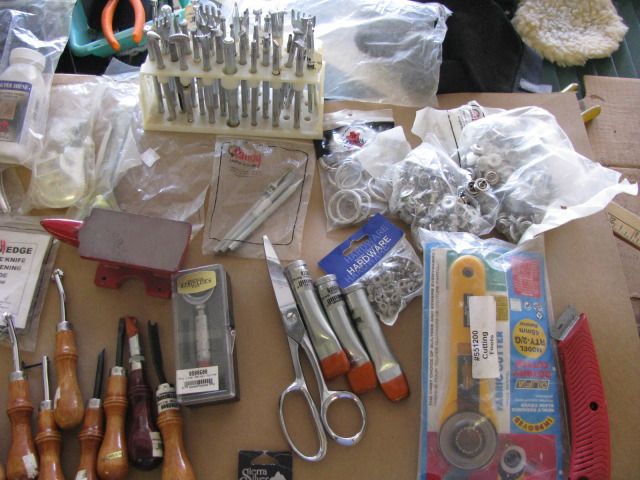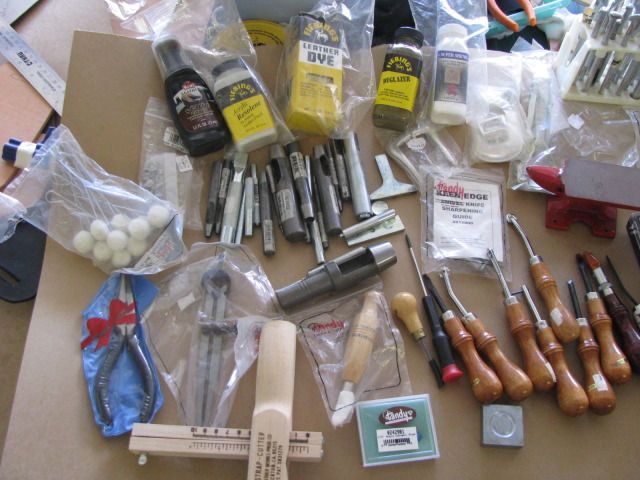 We went back and picked up the horn. We got a Yamaha Baritone Horn that was tagged at $799 for $200. The cheapest used one I could find at a music store was $975. And they are $1100 or more new. It had set in the case so long it had tarnished into the finish. I bet it's been there for 10 years. It looked bad aesthetically, but there was no damage and my daughter can play it fine. I'm in the process of taking the tarnish, and unfortunately the lacquer finish, off with brasso and steel wool. Looks like I beat the house twice today. I'll trade some elbow grease for that price, and we will probably replace the valve springs. And my daughter can't put it down.